Digitalisation
The NFU and the umcs are increasingly targeting digitalisation. This reduces the administrative burden after all. Plus: digitalisation makes it easier to offer the patient the right care in the right place.
By working on digitalisation, the umcs are fulfilling an important societal role: they are contributing actively to improving data exchange, recording at the source and reuse of data. The NFU works in different ways on the digitalisation agenda of the umcs.
Recording at the source
It was agreed that from 2020, all UMCs would record 80% of the healthcare data automatically in the Electronic Patient Record (EPD). Each umc has its own roadmap to achieve this goal. The Citrienfonds programme Recording at the source is working towards a future in which healthcare information can be recorded clearly just once in the healthcare process. This allows the data to be reused again and again, which will save a great deal of time and effort. Recording at the source will help to realise the implementation of the programme in the umcs. 
Recording at the source contributes to the ambitions of the Policy agreement for medical-specialist healthcare 2019 - 2022 and to realising outcome goal 4 of the Healthcare Information Council (see below).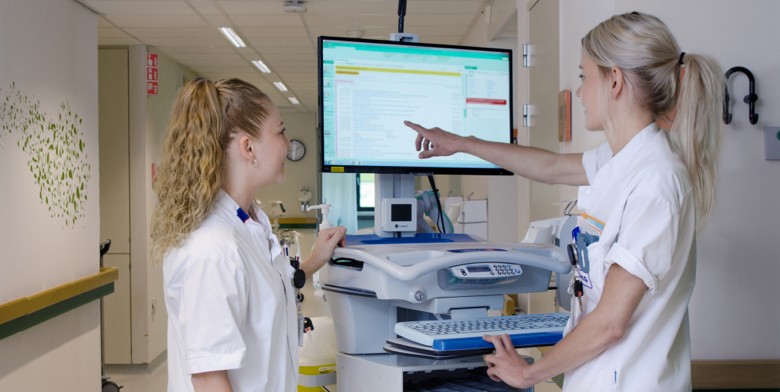 Healthcare Information Council
The NFU participates in the Healthcare Information Council. This consultation organ consists of healthcare professionals and parties that strive together for a good climate for digital healthcare and e-health. They share experiences and collaborate on agreements, standards and facilities to accelerate progress towards that goal. That is important because digitalisation means that patients have to go to the hospital less often, for example, and they can remain living at home for longer. Plus they have more control over their own health. The Information Council is guided by four 'outcome goals': 
VIPP5 & Twiin
To accelerate the digitalisation of healthcare, the NFU is participating in the data infrastructure initiatives VIPP 5 and Twiin. These initiatives will demand a lot of attention in the coming years and may involve major ICT modifications in the umcs.