Integral Care Agreement (IZA)
IIn September 2022 the NFU signed the Integral Care Agreement (IZA) together with a wide range of representatives from the healthcare sector, the Association of Netherlands Municipalities (VNG) and the Ministry of Health, Welfare and Sport. We are jointly committed to the important societal challenge of keeping good-quality healthcare affordable and accessible, now and in the future. This will require the healthcare sector to change: less focus on disease and treatment and more commitment to health and what the individual is capable of.
The number of patients with multiple chronic conditions continues to grow, increasing the cost of care. At the same time, there is a growing shortage of personnel. This combination is putting the accessibility, affordability and quality of healthcare under pressure. Changes in the healthcare sector will be required to keep it good quality, accessible and affordable.
The Cabinet, municipalities, healthcare providers, health insurers and representatives of the healthcare professionals and of the patients have therefore come to agreements. The main theme in them is that not all types of care can be offered in the future, rather care that works and is customised.
"We have to reverse the trend now. The umcs want to work together with all IZA parties on a physically and financially sustainable healthcare system. This will enable us to progress in a healthy way."

Bertine Lahuis, NFU chair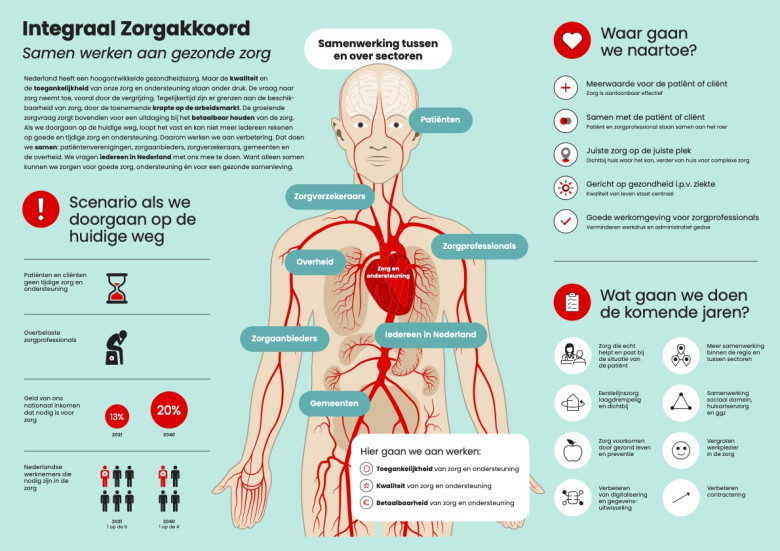 The umcs focus on multiple objectives, including: