RN2Blend
What effect will the differentiated employment of nurses have? That topic is being investigated by the RN2Blend programme.
RN2Blend stands for Registered Nurses to Blend. It is a 4-year research programme that scientifically investigates and monitors the differentiated employment of nurses in hospitals and umcs. Job differentiation means that the nurses' tasks are rearranged in new and/or revised positions. Their individual qualities are therefore better recognized and deployed.  The most important goals of job differentiation are raising the level of the quality of care and making healthcare future-proof. That is essential because care is changing fast. Treatments are becoming more complex, the technological possibilities have increased greatly, and more healthcare parties are now involved. Nurses play a key role in all of this: their profession adjusts continuously to match.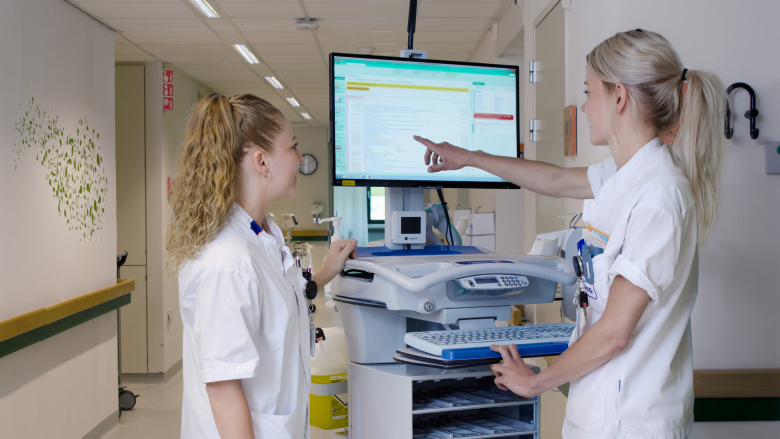 RN2Blend shows what changes can occur in practice and how the nursing profession is developing at different levels of training and experience, and with various competencies. The programme will soon produce results for all care in general. It is thus important for everyone involved with nursing. 
For hospitals it is interesting to see what the differentiated employment of nurses can lead to, for example, in terms of satisfaction, health gain or staff turnover. The research also wants to clarify how the differentiated employment of nurses can best be designed and what is necessary to achieve this. In the testing grounds some experience has already been gained with this in the hospitals and umcs. RN2Blend goes further, with the aim to get the hospitals to learn from each other.
FD Tool
The NFU and NVZ have developed different tools that can help with a smooth implementation of job differentiation. One of them is the FD Tool. It is a quality improvement tool to measure the quality and safety of patient care and the job satisfaction of nurses before and after the introduction of job differentiation. So can every hospital obtain insight into the effects –and thus the potential added value – of the differentiated employment of nurses. It uses internationally validated questionnaires among other items. Research bureau Newcom is carrying out the study. 
RN2Blend is commissioned by the Ministry of VWS and is a partnership of the NFU and the Dutch Association of Hospitals (NVZ), with researchers from Radboudumc, UMC Utrecht, Erasmus University Rotterdam, Hogeschool Utrecht and the Spaarne Gasthuis.